The "game-changer" $3.5 billion CPEC project in Karachi and the fate of Machhar Colony
The new project would mean that more than half a million residents of Machhar Colony would be relocated.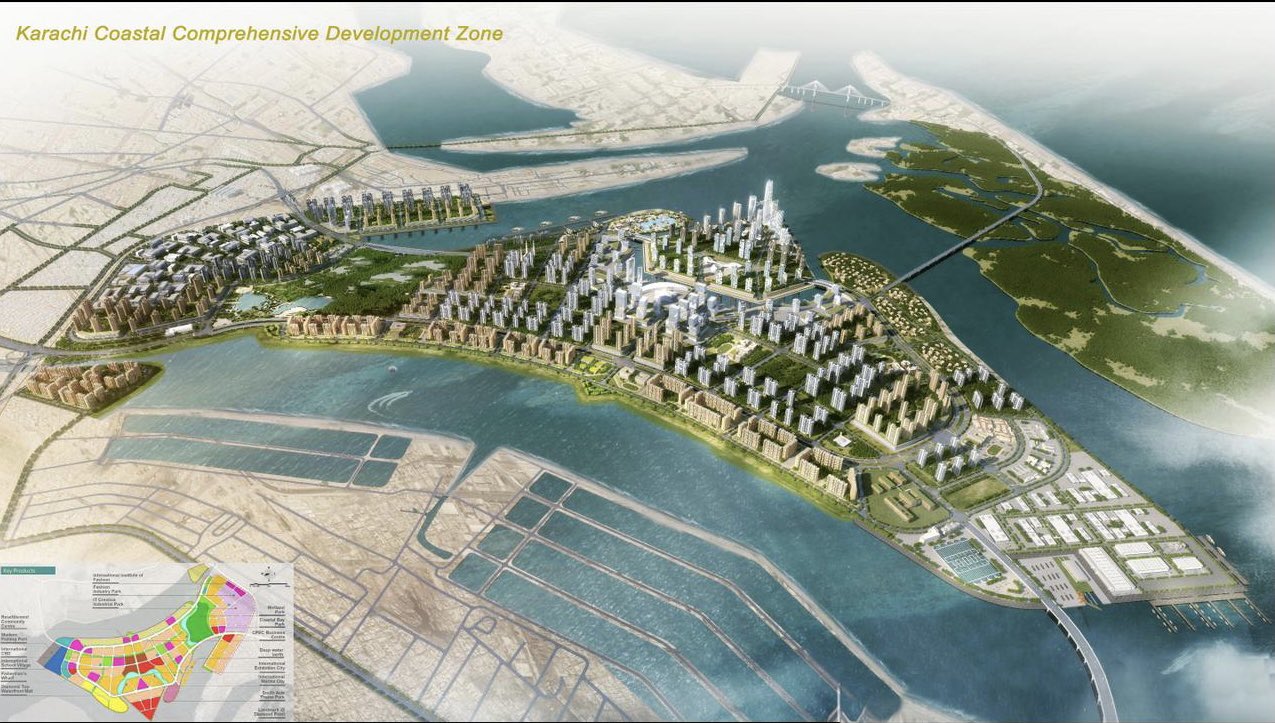 The federal government on Saturday announced a "game-changer" project for Karachi under the China-Pakistan Economic Corri­dor (CPEC) that would witness $3.5 billion of "direct Chinese investment."
The project —Karachi Coastal Co­m­prehensive Develop­ment Zone (KCCDZ)— aims to improve the metropolis' seaboard with new projects.
Enjoying the blog? Check these too.
Inclusion of Karachi Comprehensive Coastal Development Zone in CPEC is game changer. Will cleanup our marine habitat for fishermen, develop 20k low income housing units & present opportunities for investors. Will put Khi at par with developed port cities
Well done @MaritimeGovPK

— Imran Khan (@ImranKhanPTI) September 26, 2021
These include adding new berths for Karachi Port, building a new fishery port, and establishing a 'majestic harbor bridge' joining it with Manora Island and Sandspit Beach.
However, the developments mean that the authorities would have to revamp one of Karachi's oldest and largest slums —Machhar Colony— and relocate its more than half a million population.
What is Machhar Colony?
Machhar Colony (Fisherman's Colony), also known as Muhammadi Colony, is a congested slum of 25,000 families near the Port of Karachi and Lyari.
The colony is mostly home to alien Rohingya refugees and Bengalis. Most residents have registered themselves with the National Database & Registration Authority (NADRA) and acquired local identities.
However, despite living in Pakistan their whole lives, these people are not classified as Pakistani citizens and often face discrimination by the authorities due to their ethnicities.
Living in an uninhabitable environment for decades and denied fundamental rights, most of the colony's residents are hardly aware of the authorities' new plans to revamp the settlement and relocate the population.
Shahab Alam, a resident of the locality known due to his association with the Karachi Bengali Forum, remarked that the new plans had been viewed with skepticism by the colony's residents.
Alam added that it would be hard for the government to achieve the desired results.
"We don't even have drinking water here," Alam lamented.
"We live in narrow streets blanketed with garbage, and our children roam around amid flies and mosquitoes."
Alam explained that it would be good if the colony's residents were offered a better place.
However, he added that the residents do not wish to "afford any deception in the name of development."
Alam explained that even amid the worst living conditions, the residents do not wish to be "thrown" out of the colony only based on shaky promises that would not materialize.
He added that the previous governments, from General Zia-ul-Haq to General Pervez Musharraf, had also painted rosy pictures of developing the colony.
However, nothing ever changed.
---
What are your views on this? Share with us in the comments below.