Gallup Survey: PTI most likely to win tomorrow's AJK elections
PM Imran Khan has also emerged as the 'most trusted' political leader in AJK.
Pakistan Tehreek-e-Insaf (PTI) has emerged as the favorite party in Azad Jammu & Kashmir (AJK).
The Prime Minister Imran Khan-led party is expected to win the upcoming elections in the region.
Enjoying the blog? Check these too.
This was disclosed according to a survey conducted by Gallup Pakistan.
More than 500 people participated in the survey, and all ten districts of AJK were covered.
According to the survey, 44% of the people in AJK believe PTI will win the upcoming elections to be held tomorrow, on the 25th of July, 2021.
On the other hand, 12% believe that Pakistan Muslim League-Nawaz (PML-N) will win the election, and only 9% pin their hopes on Pakistan Peoples Party (PPP).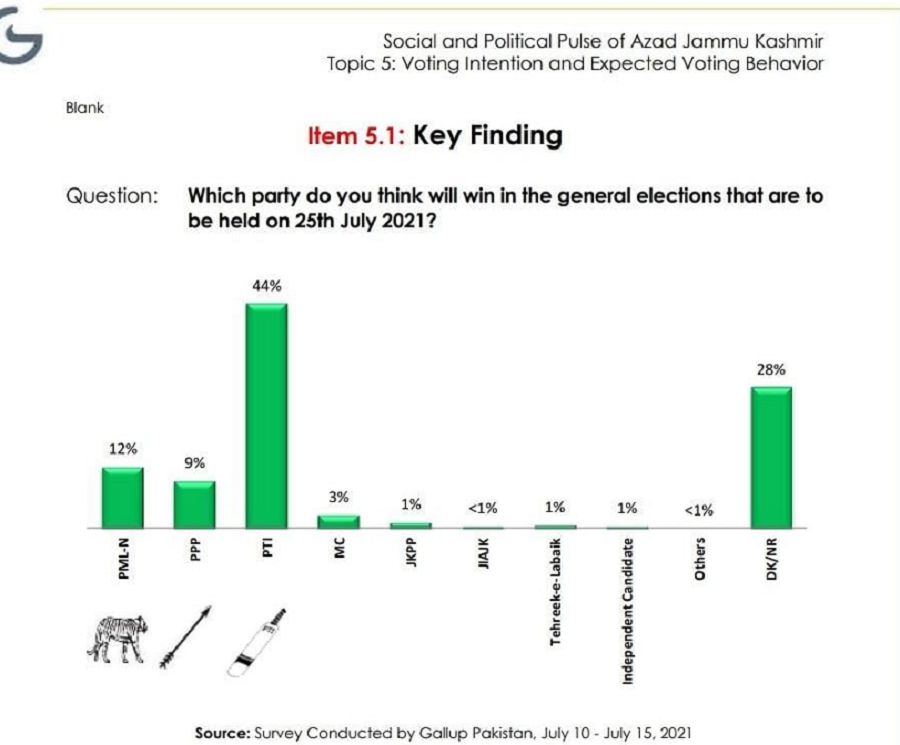 Likewise, the PTI Chairperson and the Premier, Imran Khan, emerged as the "most trusted" political leader in the survey.
Around 67% of the respondents expressed a positive rating about PM Imran Khan as a leader.
Meanwhile, 49% of the respondents had a favorable view of Bilawal Bhutto Zardari, 48% of Shehbaz Sharif, 47% of Nawaz Sharif, and 45% of Maryam Nawaz.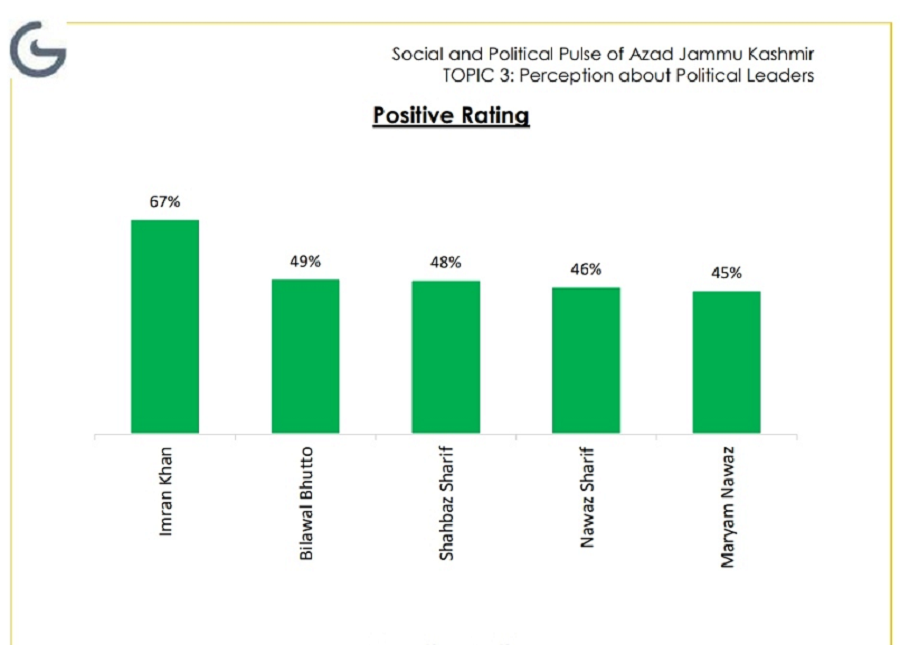 The survey also disclosed that 94% of the respondents are likely to vote in the upcoming election, while 6% have no intention to vote.
Around 53% of the respondents in AJK believe that the elections will be free and fair.
Meanwhile, 30% think that they will not be transparent, while 17% are unsure.
It is pertinent to note that over 3.2 million voters are set to elect the 53-member assembly of AJK for a five-year term tomorrow on Sunday.
What are your views on this? Share with us in the comments below.