Global activists call for boycott of Disney's Mulan over filming in Xinjiang
After initially rejecting the existence of the camps, Beijing has described them as vocational schools aimed at dampening extremism and violence through education and job training.
The Walt Disney film Mulan is facing calls for a boycott, after authorities in China's autonomous region of Xinjiang – where around one million Muslim Uighurs are allegedly being held in internment camps – were thanked in the film's concluding credits.
After the movie was launched last Friday on Disney's live streaming platform, fans observed the company offering a "special thanks" to eight government agencies in Xinjiang.
According to media reports before its release, Mulan was filmed across 20 locations across China in 2018, counting the Mingsha Shan desert, part of Xinjiang, and the Tuyuk Valley, an oasis village east of Turpan.
Activist Joshua Wong accused Disney of "kowtowing" to China, citing Liu and another actor's support for Hong Kong police and the movie's credits mentioning state organisations in Xinjiang. "We urge people around the world to boycott the new Mulan movie," he told Reuters pic.twitter.com/4FZN42ICY1

— Joshua Wong 黃之鋒 😷 (@joshuawongcf) September 8, 2020
Among the agencies thanked in the credits were the Chinese Communist Party's "publicity department," which is in charge of propaganda in Xinjiang and the public security bureau in Turpan – where several of China's concentration camps have been documented.
China has faced severe criticism over its Turkic-Muslim minority's treatment, with both Human Rights Watch and Amnesty International saying there are around one million Muslims held at the camps.
Why did Disney need to work in Xinjiang? It didn't. There are plenty of other regions in China, and countries around the world, that offer the starkly beautiful mountain scenery present in the film. But in doing so, Disney helps normalize a crime against humanity.

— Isaac Stone Fish (@isaacstonefish) September 7, 2020
After initially rejecting the existence of the camps, Beijing has described them as being vocational schools which are aimed at dampening extremism and violence through education and job training.
However, foreign media and rights groups have reported that official documents and satellite images show the facilities are equipped and run like prisons. 
#BoycottMulan is a MUST!

After support HK police brutality, @Disney is pro genocide on #Uygur !
The final credits of #mulan  thank Chinese government security agency in Xinjiang , where about 1m people are sent to concentration camps for torturing and forced slave labor. pic.twitter.com/Vuz8ny78oy

— 巴丢草 Badiucao (@badiucao) September 8, 2020
There have also been accounts that the Chinese authorities have imposed sterilization and birth control on Uighur women to curb the population. Imposing such measures which are intended to limit births within a community is a part of the United Nations' definition of genocide.
'Potentially complicit.'
Mulan specifically thank the publicity department of CPC Xinjiang uyghur autonomous region committee in the credits.

You know, the place where the cultural genocide is happening.

They filmed extensively in Xinjiang, which the subtitles call "Northwest China"#BoycottMulan pic.twitter.com/mba3oMYDvV

— Jeannette Ng 吳志麗 (@jeannette_ng) September 7, 2020
Based on a 2,000-year-old Chinese legend, Mulan tells the tale of a girl who disguises herself as a boy to join the Chinese Imperial Army to fight the invading Huns and save her father from going into battle.
The film was already facing boycott calls after the actress who plays Mulan's character, Liu Yifei, expressed solidarity with the Hong Kong Police Force amid pro-democracy protests. Demonstrators accused police of using excessive force to quell demonstrations.
Joshua Wong, head of Hong Kong's pro-democracy movement, said the latest revelation was yet another reason to boycott Mulan, saying that viewers could become "potentially complicit in the mass incarceration" of Muslim Uighurs.
Why we should #BoycottMulan? It's about hypocrisy. In Hollywood movies, they claim to embrace social justice. In fact, they kowtow to autocratic China disgracefully. They shamed themselves by upholding values they don't even believe in. Movies, should be more than money.#FreeHK pic.twitter.com/Xmgdyl0NOj

— Nathan Law 羅冠聰 😷 (@nathanlawkc) September 7, 2020
Human rights experts have demanded Disney to be transparent about its dealings with authorities in Xinjiang.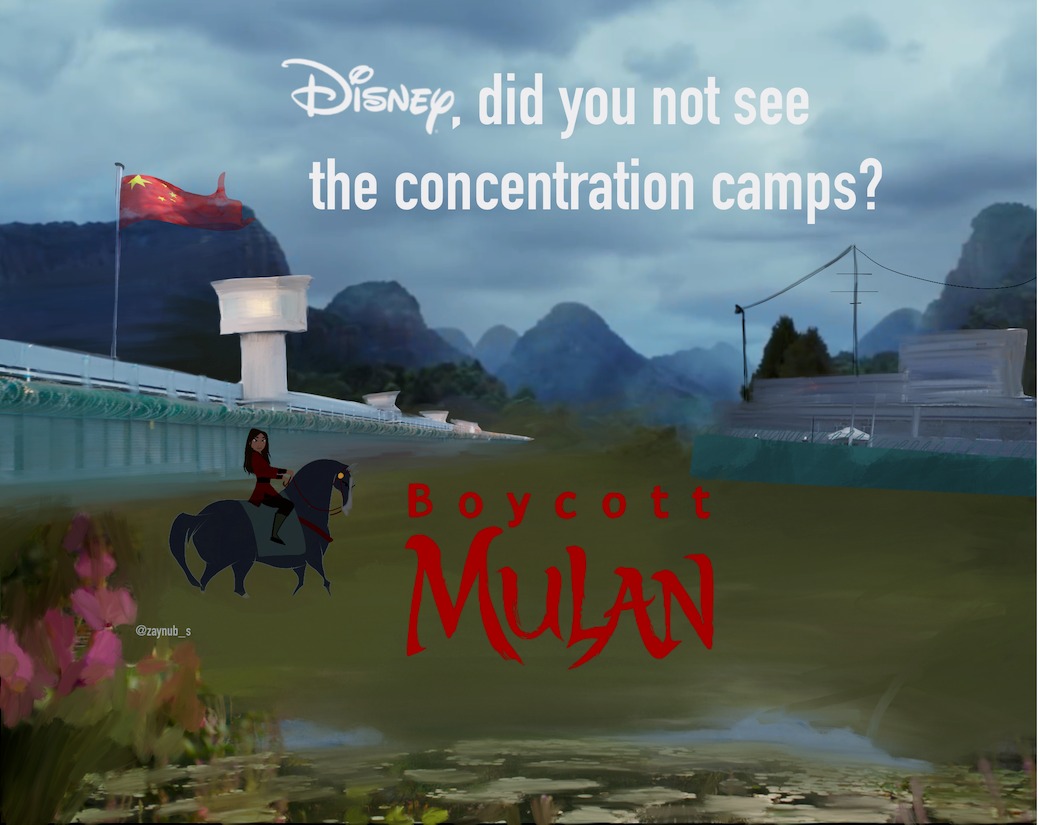 Disney had shared its script with Chinese authorities and consulted with local advisers, and taken input from China's film board, all to guarantee a release in China, according to the Wall Street Journal.
What are your views on this? Share with us in the comments below.