Summarized: The Historic Meeting Pope Francis and Grand Ayatollah Ali al-Sistani
The visit to Iraq was the pontiff's first trip abroad since the outbreak of the coronavirus.
Two of the most influential faith leaders worldwide reached across a religious divide on Saturday to promote harmony and unity in a historic meeting.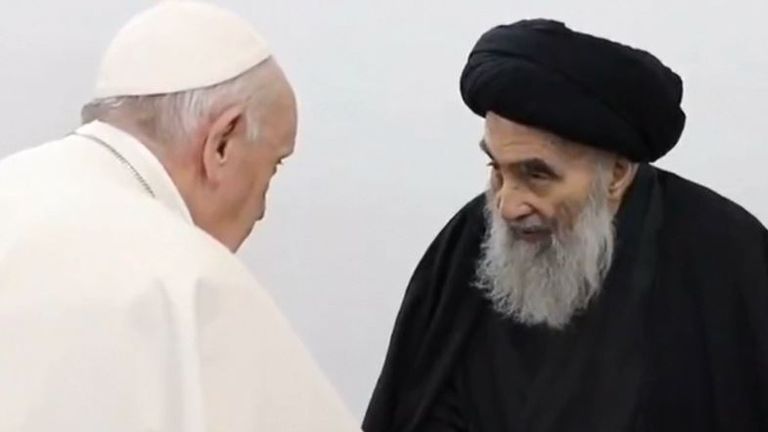 Enjoying the blog? Check these too.
Pope Francis, 84, the head of 1.2 billion Roman Catholics, and Grand Ayatollah Ali al-Sistani, 90, the spiritual leader of most Shia Muslims, talked for almost an hour during the first-ever papal visit to Iraq.
The visit to Iraq was the pontiff's first trip abroad since the outbreak of the coronavirus.
Sistani, dressed in black, "declared his concern that Christian citizens should live like all Iraqis in harmony and security, and with their full constitutional rights," according to a statement.
Francis, dressed in white, praised Sistani for having "raised his voice in support of the most oppressed" during some of the harshest times in Iraq's current history, the Vatican said.
Neither man wore a face mask during the harmonious encounter at Sistani's modest rented home in the venerated city of Najaf, despite a recent rise in Covid-19 infections in Iraq.
The pope has been vaccinated against the virus, but the Ayatollah has not.
Francis took off his shoes before entering Sistani's room. The Muslim cleric, who remains typically seated for visitors, stood to greet Francis at the door of his room – a rare honor.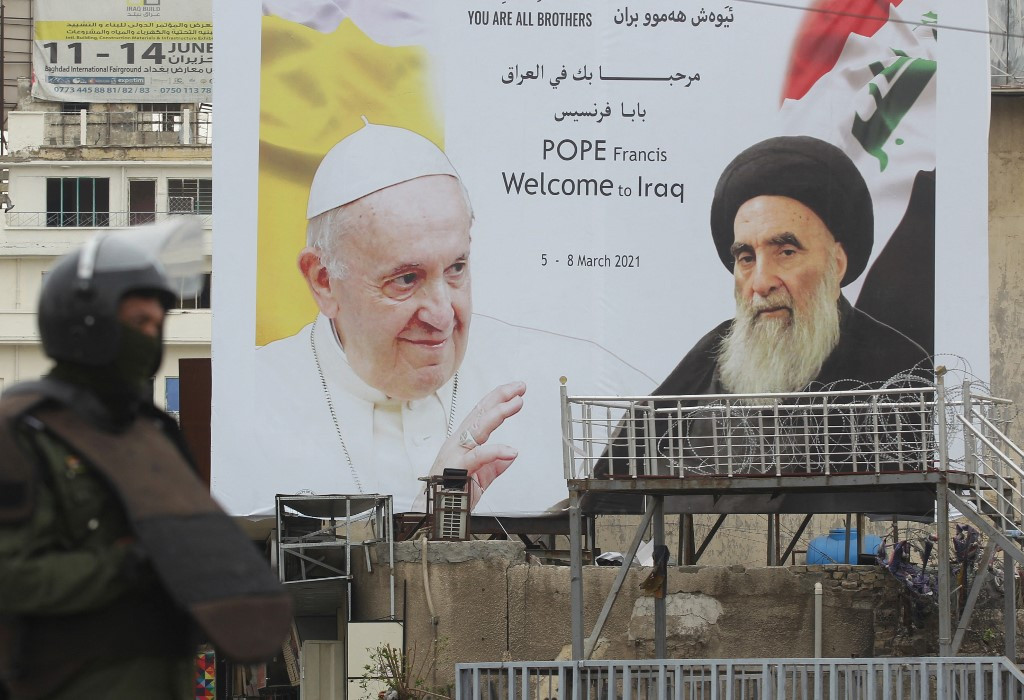 The meeting was a landmark moment in modern religious history and a milestone in Francis's efforts to deepen dialogue with other faiths.
Francis, a fervent advocate of interfaith dialogue, has met leading Sunni clerics in several Muslim-majority countries, including the United Arab Emirates (UAE), Bangladesh, Morocco, and Turkey.
On leaving, Pope expressed his experience of meeting Grand Ayatollah Sayyed Ali Al-Hussaini Sistani as following:
I felt the duty in this pilgrimage of faith and penitence to go and meet a great man, a great sage, a man of God and on listening to him [Ayatullah Sistani], you can perceive this….He is a person who has wisdom and prudence. He said to me it has been 10 years that I have not received people who come to visit me with political objectives, I met only those with religious. He was very respectful, very respectful in our meeting that I felt honoured. He never gets up to greet people but he got up twice to greet me. He is a humble and wise man. That meeting did my soul good, it is a light
Two years ago, he and Sheikh Ahmed al-Tayyeb, the imam of al-Azhar mosque in Cairo and a vital authority for Sunni Muslims, signed a text encouraging Christian-Muslim dialogue.
What are your views on this? Share with us in the comments below.