Iranian Girl Denies She Had 50 Surgeries – Says It Was Just Technology Or Makeup
I am sure by now we all know Sahar Tabar – the Iranian teen who was said to undergo 50 surgeries to look like Angelina Jolie. Her pictures shared by countless social media platforms and discussed on multiple forums, her Instagram flooded with comments telling her that she looked way better before.
If you missed out on the story, click here.
There is a new twist in the story now. As we indicated in the previous article as well, some people had the opinion that her transformation has nothing to do with cosmetic surgeries, and is only prosthetics.
Sahar has indicated us in the similar direction as well.


As reported by Snopes.com, Sahar has recently clarified her part saying that her pictures are not entirely natural. She said they were a result of makeup or technology. She further went on saying that she fails to understand why people are acting so surprised and channels are being biased, although everything is possible in the present world.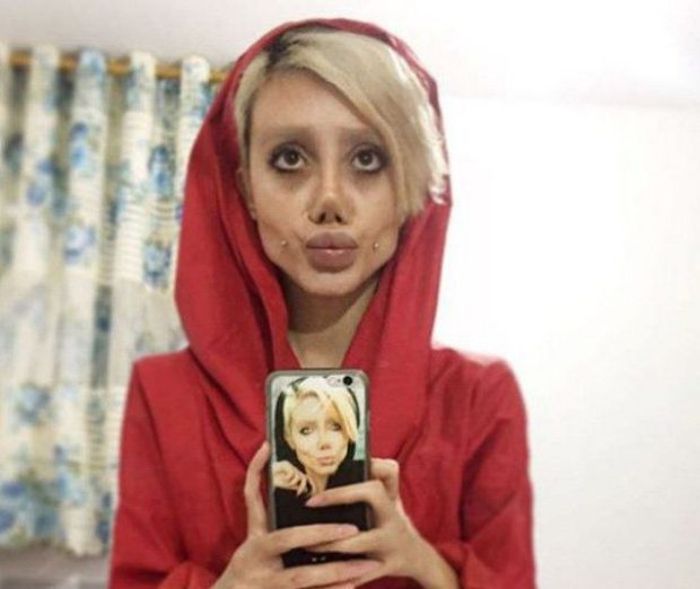 "Hello relatively dear followers, the picture that you're scrutinizing, even though I didn't like it, I kept it in … I must say I only had [indeterminate number of] surgery, not 50 surgeries, and foreign sites and channels were very biased in the way they talked about my photos. I thought these people are probably living in the 18th century and they haven't seen or heard of technology or makeup and they are really surprised." (Source: Snopes.com)
Enjoying the blog? Check these too.
After facing backlash and intense criticism, Sahar made her Instagram account private. However, there is no confirmation about the authenticity of neither the initial news nor her recent statement.
What are your thoughts on this? Let us know in the comments section below.