Israel to build new settlement units in East Jerusalem
The process will conclude just days before US President-elect Joe Biden's inauguration.
Israel on Sunday issued a tender for the construction of new illegal settlement homes in occupied East Jerusalem.
קוראים לזה מחטף https://t.co/Mnq5WiQ9oV

— שלום עכשיו (@PeaceNowIL) November 15, 2020
Enjoying the blog? Check these too.
According to Peace Now, an Israeli anti-settlement organization, the Israel Land Authority announced on its website that it had opened up tenders for 1,257 new homes in Givat HaMatos in East Jerusalem.
Brian Reeves, a spokesperson for Peace Now, said the move allows contractors to begin bidding on tenders. The process will conclude just days before US President-elect Joe Biden's inauguration. Construction could then start within months.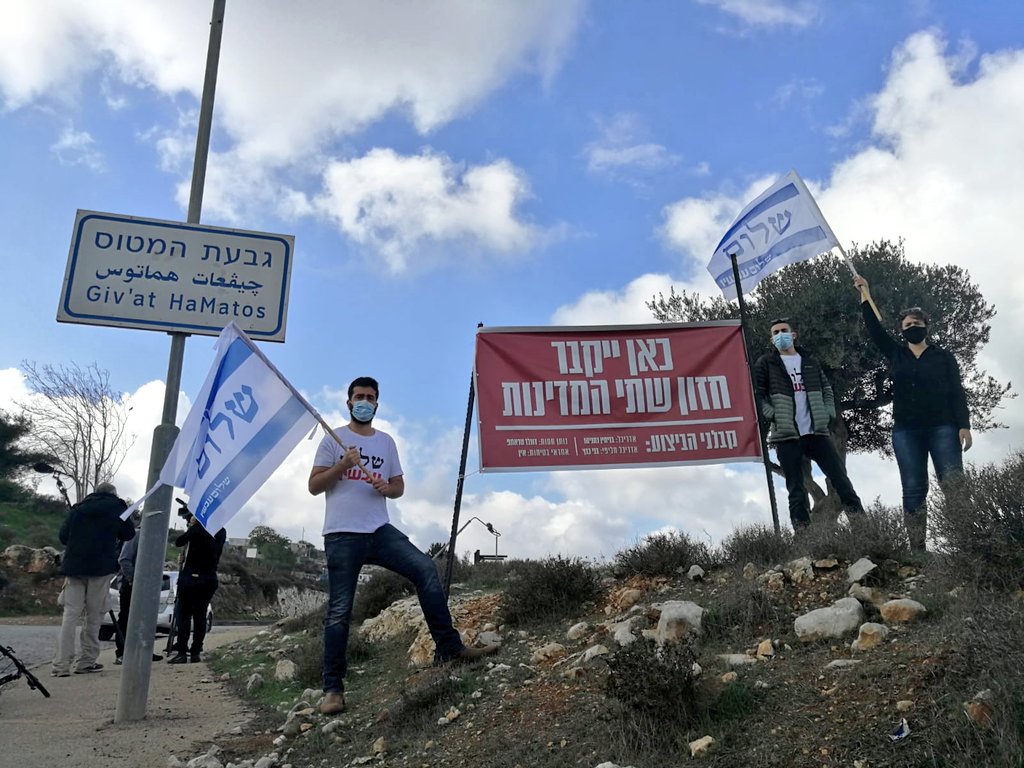 "This is a lethal blow to the likelihood for peace," Peace Now said in a statement, adding Israel was "taking the benefit of the final weeks of President Donald Trump's administration to set facts on the ground that will be exceptionally hard to undo to achieve peace."
In 2014, Israel froze a decision to build 2,600 housing units in the same settlement due to international pressure.
The Palestinian Presidency denounces Pompeo's planned visit to Israeli settlements and Israel's advancement of 1257 new settlement units in an illegal West Bank settlement; located between the cities of Jerusalem and Bethlehem. https://t.co/zAEIwPyUeo #Palestine

— Palestine PLO-NAD (@nadplo) November 15, 2020
The Palestinian leadership says construction in the Givat Hamatos settlement would block off the Palestinian city of Bethlehem and the southern West Bank from East Jerusalem, further cutting off access for Palestinians to that part of the town.
"This is a resumption of the current Israeli government policy in demolishing the two-state solution," said Nabil Abu Rudeina, a spokesperson for Palestinian President Mahmoud Abbas.
Earlier on Thursday, the Israeli authorities approved the construction of 108 illegal housing units in the Ramat Shlomo settlement in East Jerusalem.
shows a view of ongoing construction work at Ramat Shlomo, a Jewish settlement in the Israeli-annexed eastern sector of Jerusalem. – Israel has approved building of about 100 settlement homes at the same site where settlement expansion plans unveiledPhoto by AHMAD GHARABLI / AFP) pic.twitter.com/naKXD3iVgW

— ahmad gharabli (@gharabli_ahmad) November 12, 2020
US Secretary of State Mike Pompeo is set to travel to the region this week, where he is expected to explore an illegal Israeli settlement in the West Bank.
Palestinian officials have denounced Pompeo's planned visit.
Palestinian Prime Minister Mohammad Shtayyeh tweeted that this was a "dangerous precedent" that legalizes settlements.
We deplore US Sec. of State Mike Pompeo's intent to visit the illegal settlement of Psagot, built on lands belonging to Palestinian owners in Al-Bireh city, during his visit to Israel next week. This dangerous precedent legalizes settlements& a blow to int'l legitimacy/ UN Res's.

— Dr. Mohammad Shtayyeh د. محمد اشتية (@DrShtayyeh) November 13, 2020
With nearly 500,000 illegal settlers now living in the West Bank, and more than 220,000 others in East Jerusalem, the Palestinians say the prospects of establishing their state are quickly dwindling.
The West Bank, including East Jerusalem, is regarded as an "occupied territory" under international law, making all Jewish settlements illegal.
What are your views on this? Share with us in the comments below.