Kabuli Sheer Yakh: An Ice Cream Loved both by Pakistanis and Afghans
Balochistan is home to a large number of Afghan refugees , who have introduced new items to Quetta's culture and cuisine, including a Kabuli Sheer Yakh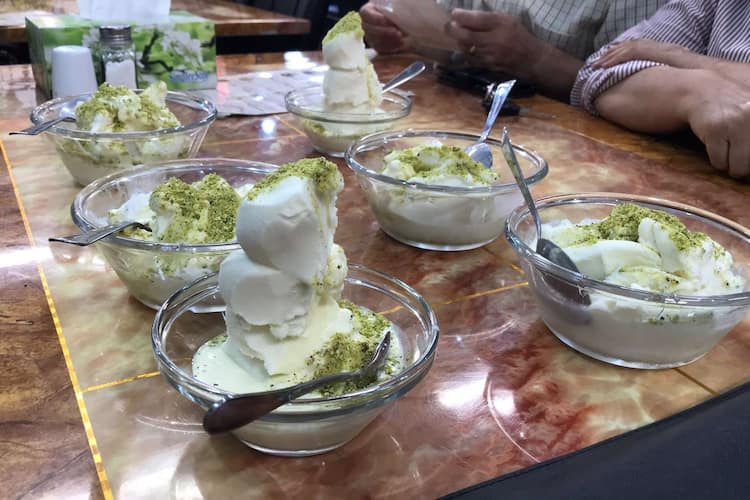 Kabuli Sheer Yakh, a mouth-watering Afghan ice cream, is equally loved by both Pakistanis and Afghans in Balochistan's capital Quetta.
There are several Kabuli Sheer Yakh ice cream shops, run by Afghan refugees, in Quetta's upscale Satellite Town.
The oldest one of these shops is owned by Saeed Ahmed, who has been making Kabuli Sheer Yakh for the past twenty years.
According to Saeed, this pure milk ice cream is a gift from Kabul that he brought to Pakistan, and it is adored not only by Afghans but also by the locals.
Saeed claims that the ice cream's method is the same as that of the one made in Kabul. However, he adds that pistachios and almonds are added in the Sheer Yakh of Kabul but are absent in the one made in Quetta because the locals don't like them.
Interestingly, Kabuli Sheer Yakh is popular during the winter in Kabul, yet it is popular during the summer in Quetta.
Saeed also explains that the Afghan refugees do not like to see changes in recipes and appreciate the original ice cream.
When Saeed tried introducing new flavors of Kabuli Sheer Yakh, people stopped coming to his shop. This is why Saeed tries his best to make the ice cream the same as the original version of Kabul.
The name of Kabuli Sheer Yakh has its origins in the Persian language. While sheer means "milk", the meaning of yakh is "cold."
While the Kabuli Sheer Yakh is popular on a daily basis, it becomes a must in wedding meals.
Saeed says that most of the ice cream's enthusiasts are Afgan refugees from the region of Kandahar, and other areas, while some locals buy it as well.
Saeed added that the price of this 'pure, specially made' ice cream has been kept at a reasonable rate. "We sell this ice cream for up to Rs. 400 per kg, which is available to the general public," he said.
This article first appeared in The Independent Urdu in Urdu language. 
What are your views on this? Share with us in the comments below.