Khausa: A Dish From Myanmar (Burma) Popular In Karachi!
Yummy!
From a cuisine or a cultural perspective, one wouldn't think that Myanmarese (Burmese) and Pakistanis have much in common.
Nevertheless, people from both countries love their Khao Suey!
Enjoying the blog? Check these too.
Whether one calls it 'Khausa/Khausay,' (کھاؤسا/کھاؤسے) like the South Asians like to, or Khow Suey (ခေါက်ဆွဲ), which is what the dish is originally called, the delicacy has traveled across Pakistan from Myanmar (Burma).
Khausa includes ingredients, such as coconut milk and egg noodles, which are not considered a part of traditional Pakistani foods' ingredients.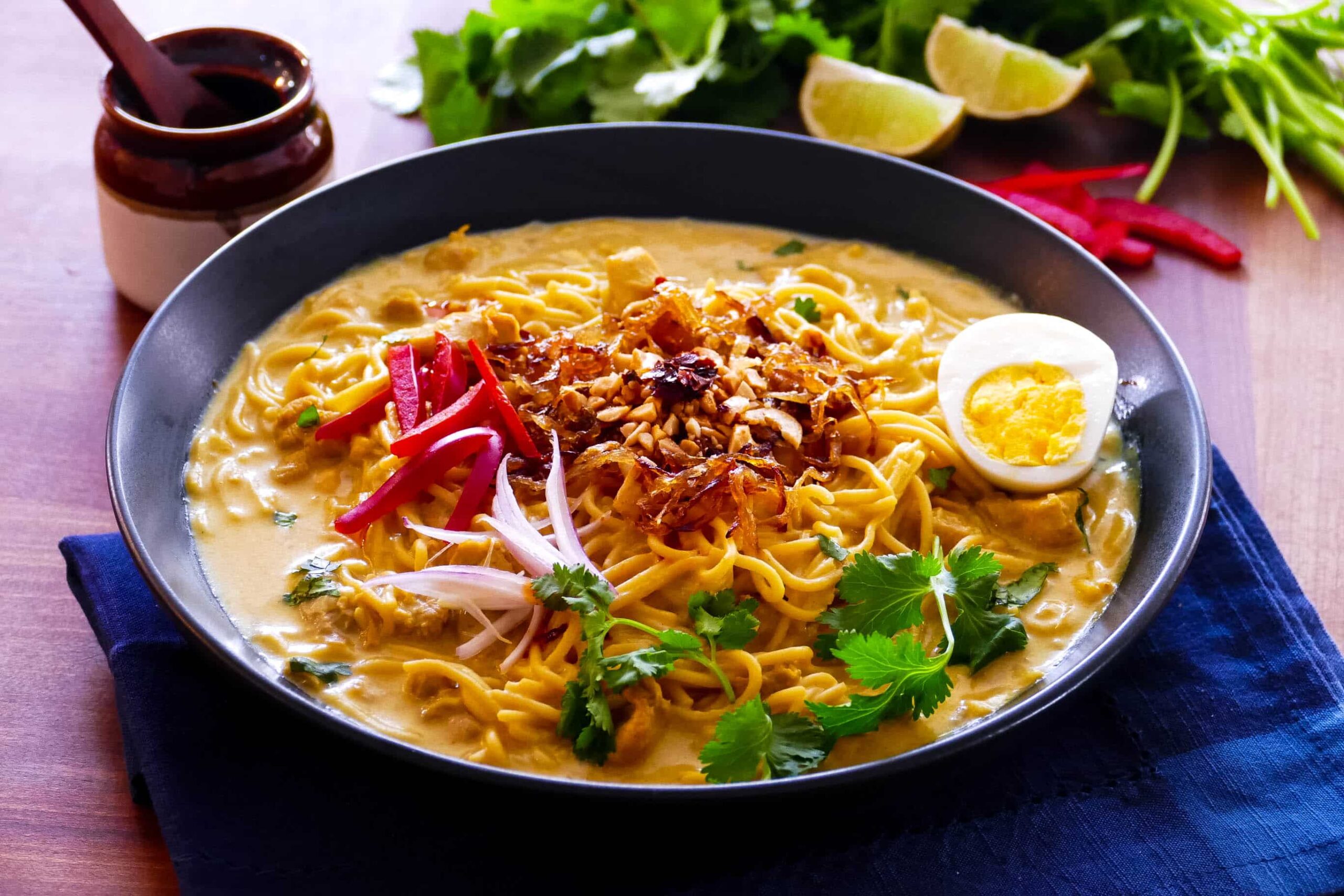 Origins in Pakistan.
With hundreds of various cultural and ethnic groups residing in Karachi, Pakistan, the Memons are among its most vibrant groups.
Traditionally known to be a group of business persons hailing from Gujarat, India, the group has scattered across the globe through time.
Nevertheless, one of the largest Memon diasporas is settled in Karachi, and its cultural impact on the metropolis is evident.
It is believed that the Memon community adapted Khausa, likely coinciding with the emigration of South Asians from Burma (Myanmar) in the 1960s.
Since then, Khausa has been one of the signature dishes of the Memon community.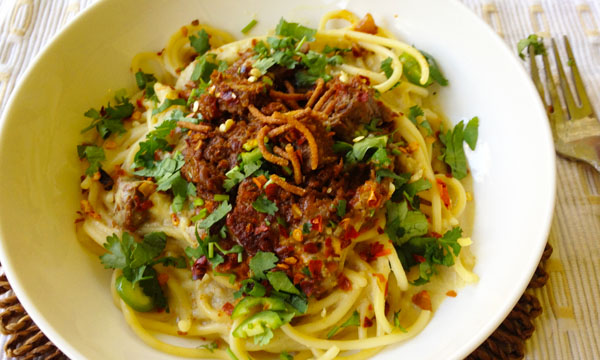 Whether it be shared at the Jumu'ah prayer feast, the weekend lunch table with extended family, or a dinner party, Memons have taken pride in making and serving their version of Khausa for decades.
Hashim Noor, a Dubai-based Memon, said: "I barely know of any Memons who don't regularly have Khausa, or at least know about it."
Interestingly, the Memons have altered the dish to their taste, combining South Asian ingredients with elements from the original Southeast Asian version.
"I had no idea that one of my favorite dishes that I thought is so specifically Memon comes from Myanmar (Burma)," said Noor.
Noor explained that the Memon community had strong ties with Burma before the partition of the subcontinent.
"Memons have made a slight fusion out of the traditional Burmese dish. We have added our own spicy touch. We even altered the name from Khao Suey to 'Khausa,'" said Ayaz, the Memon Darbar restaurant owner in Ajman, the United Arab Emirates (UAE).
"It's every Memon's favorite dish. It requires much time to prepare, so if one presents it to guests, they're very honored," said Ayaz.
When asked about Khausa's origin, Ayaz said that she was aware of its Myanmarese roots.
Her grandfather had moved to Burma for a long time and informed her about its influences on Memoni cuisine.
Many Memoni dishes result from cultural fusion, beautifully telling the story of the group's migration pattern.
"We mainly come from Gujarat, so many of our dishes are a blend of Memoni and Gujarati style cooking," added Ayaz.
Pakistani version.
The Memon variation of Khausa uses spaghetti as the dish's base, topped with curry made up of gram flour, coconut milk, and curried chicken cubes.
For a layer of crunchiness, fried spaghetti, samosa dough, and spicy papri are added to the mix.
The delicacy is garnished with green chili, ginger slivers, and chaat masala (a spice mix of cumin, rock salt, pepper, and dried mango powder) for extra punch.
Note from the author: When you visit Karachi, don't forget to try Khausa from an authentic Memon eatery!
Craving a Khausa? What are your views on the dish? Share with us in the comments below.