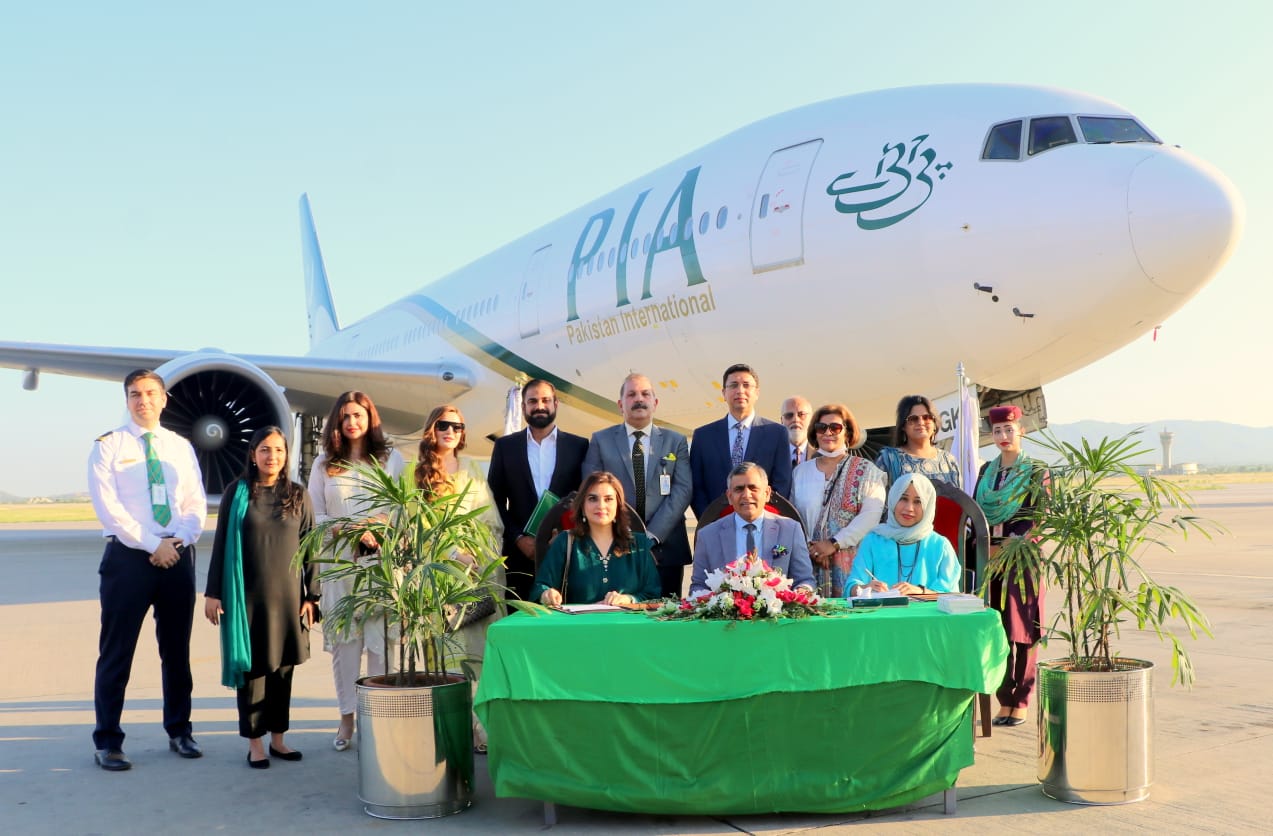 The national carrier —Pakistan International Airlines (PIA)— has become the first-ever airline in the world to promote safe travel for women and prevent harassment of women in public places.
This development became a reality when the national carrier, alongside UN (United Nations) Women and the Federal Ombudsperson for Protection Against Harassment (FOSPAH), signed a historic Memorandum of Understanding (MoU).
Enjoying the blog? Check these too.
#PIA, @unwomen_pak and @fospah ink an MoU to create awareness & work against #harassment during #Travel & #Onboard. PIA becomes 1st Airline in the world to implement such a program. #UN #WomensRights #StopHarassment #SafeTravels #women pic.twitter.com/P0g25sXLSK

— PIA (@Official_PIA) September 26, 2021
The historic MoU was signed between the Chief Executive Officer (CEO) of PIA, Air Marshal Arshad Malik, the country representative for UN Women, Sharmeela Rassool, and the FOSPAH, Kashmala Tariq, at Islamabad International Airport (ISB) on Sunday.
UN Women ??, @Official_PIA and the @fospah signed an MoU at Islamabad International Airport today, to promote safe mobility of women and staff, pledging to prevent the harassment of women in public places and workplaces.✈️#SayNoMore#HarrassmentFreeWorkplaces pic.twitter.com/OmlAkDSCOD

— UN Women Pakistan (@unwomen_pak) September 26, 2021
Under the agreement, PIA and UN Women will work together to eliminate harassment and create a safe travel environment for all women. This will include both female passengers and staff.
MOU signing between FOSPAH,PIA and UN women to provide harassment free workplace#harasmentnomore #silencenomore
@unwomen_pak @NationalITBoard @PresOfPakistan @kashmalamna @mohrpakistan @ArifAlvi @OfficialDGISPR pic.twitter.com/FuSCogiqqo

— Federal Ombudsman – Protection Against Harassment (@fospah) September 26, 2021
The agreement will ensure the implementation of Pakistan Penal Code 509 & Harassment of Women at the Workplace Act (2010) at all places, even onboard the flight.
According to a statement, this makes the national carrier the first airline globally and the first corporate sector organization in Pakistan to strive for such an initiative under the UN banner with a "public pledge" to create a safer travel and work environment for women.
This also marks a "milestone achievement" for women's rights in the South Asian country, the statements added.
---
Read More: How To Report Harassment In Pakistan: Helplines That You Should Know About [LIST]
Read More: How To Report Harassment In Pakistan: DETAILED GUIDE
Read More: Report: Online Harassment Is The Biggest Issue Pakistani Women Are Facing
---
What are your views on this? Share with us in the comments below.