[PICTURES] Armenian villagers burn houses before Azerbaijan takeover
On Friday, around ten houses were burned in and around Charektar.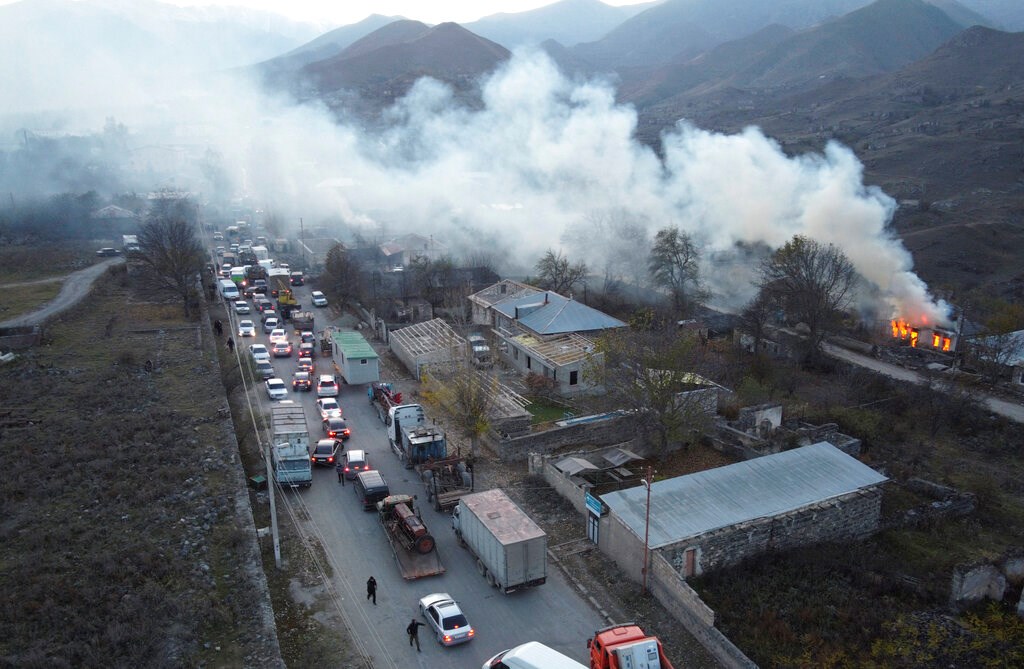 Ethnic Armenian inhabitants in Nagorno-Karabakh set their houses on fire before fleeing to Armenia ahead of their planned withdrawal from the region following a ceasefire agreement signed under Russia auspices.
In the small village of Charektar – on the border with the neighboring district of Martakert, which is to remain under Armenian occupation – around six houses were on fire on Saturday morning with a thick puff of smoke rising over the valley.
Enjoying the blog? Check these too.
"This is my house; I cannot leave it to the Turks," said one resident as he threw burning wooden rags and planks soaked in gasoline into an empty house.
"Everybody is going to set their houses on fire today," he said.
Arsen, an ethnic Armenian, lit a fire under his sister's dining room table in the small village.
"They will already be here tomorrow morning—the Azeris. Let them reside here if they can," he said, as the fire got going.
On Friday, around ten houses were burned in and around Charektar.
Meanwhile, in Azerbaijan, people showed "disappointment" at the scenes of houses in flames in a land Azeris claim is theirs.
"Armenians are vandalizing something which did not belong to them in the first place," an anonymous Azeri from Baku lamented.
Fighting between ethnic Armenian forces and the Azerbaijani army erupted in late September and raged for more than six weeks.
The ex-Soviet rivals consented to end hostilities earlier this week after major advances by Azerbaijan's troops.
A crucial part of the Russia-brokered deal includes Armenia's return of the Kalbajar, Aghdam, and Lachin districts, which Armenians held since a devastating war in the 1990s.
In 1993, Armenian separatists occupied the Kalbajar province, which was almost exclusively populated by ethnic Azerbaijanis, forcing at least 60,000 Azerbaijanis to flee.
What are your views on this? Share with us in the comments below.