Remember This 'Success Kid'? Wanna See How He looks Like Now? And How Is He Making The News Again
We live in the age of internet so viral trends are made within a matter of minutes. You must have seen a kid clenching a fist in popular memes across the internet. If not (which is next to impossible), meet the Sammy Griner, The Success Kid!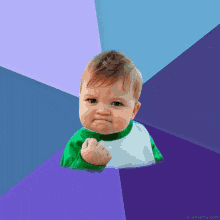 It all began back in 2007  when Sammy was first seen in memes. After that, he just killed the internet meme game, giving it a completely new direction. The popular image lead him to impeccable internet fame making him the 'internet's most famous boy' according to CNN. Not just social media, Success Kid also made to government campaigns and was used by The White House for their immigration reforms.
How It All Started:
Enjoying the blog? Check these too.
The picture was originally uploaded by his father on Flickr, with the caption ' I hate sandcastles'.
Sammy was trying to eat a fistful of sand after destroying a sandcastle. This actually served as the base of 'success' kid concept.

However,  based on Sammy's facial expressions, the connotation in which the image was used kept changing. It was commonly used to show success, self-congratulation and determination. He also appeared in an ad of vitamin water and also on billboards of Virgin Mobile UK.
GoFundMe Campaign:
The meme spread like wildfire and gained enough recognition that they ever lead a Go Fund Me campaign to support his father's kidney transplant, which was successful.  Through the campaign, the gained $9000 within the initial 5 days which surprised them as well.
His father Justin underwent a successful transplant and recovered as well. Sammy's parents were blamed for 'exploiting' their kid and using him to gain a quick fortune, however, Sammy's mother appeared in front of the media countless times clarifying that they had no control over the internet, which of course is true.
What are your thoughts on this? Let us know in the comments below.