Punjab Police registers FIR against hundreds of students over UCP protest
At least 94 students have been presented in the FIR, and a few hundred have been proclaimed unknown in the case.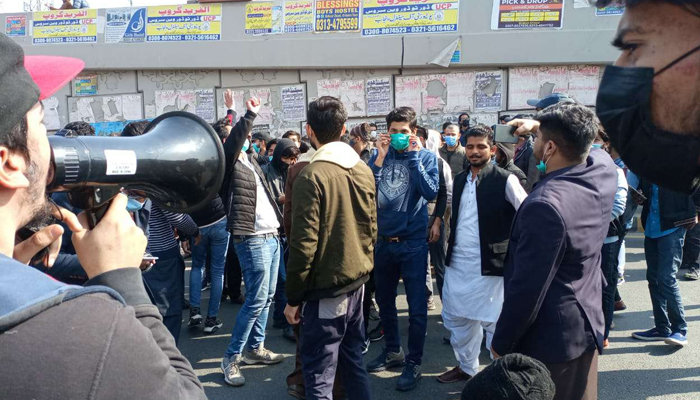 The Punjab Police registered a first information report (FIR) against the students of the University of Central Punjab (UCP) a day after dozens were baton-charged and detained.
The students were demonstrating against the university's decision to hold on-campus exams.
Students were holding protests outside the campus for two days where they were favoring online exams.
Enjoying the blog? Check these too.
They said their classes were also held online as the educational institutions remained closed due to the COVID-19 pandemic throughout the year.
At least 94 students have been presented in the FIR, and a few hundred have been proclaimed unknown in the case. The students will be presented in court by the police. 
The students have been charged under sections 148, 149, 452, 506b, 427, 342, 290, 291, 440, 436, 269 and 270.
Police identified the students via CCTV footage, social media posts, and electronic media.
The investigation officer expressed that as the protest had become a nuisance for the people in general, the university's management had requested for the protesters to leave the premises.
The officer added that the main accused, Zubair Siddiqui, had provoked the protesters to attack the UCP campus and was also accountable for stone-pelting and attacking the university's gates. 
After their protest on Tuesday, police initiated a crackdown against the students to scatter them from outside the university campus in the Johar Town area of Lahore.
A day earlier, students of the University of Management and Technology (UMT) had staged a protest on the same issue. 
The Federal Education Minister, Shafqat Mahmood, taking notice of the incident, had said he had asked the Higher Education Commission (HEC) to check out if the examinations can be held online "given special circumstances."
Students of Dera Ghazi Khan's Ghazi University had also organized a protest demonstration for the second day on Tuesday, calling for online examinations.
Earlier, many students of various universities across Lahore had staged a demonstration outside the Governor House.
Similar protests are being organized in different cities across the country. Last week, #studentsrejectoncampusexams remained a top trend on Twitter.
What are your views on this? Share with us in the comments below.