Saudi Crown Prince, Qatari Emir, and Emirati NSA meet for "brotherly meeting" in casual picnic clothes
This comes as a surprise considering what happened in the Arab Gulf region in the past few years.
In some unusual developments, the Saudi Crown Prince and de facto ruler, Mohammed bin Salman (MbS), the Qatari Emir, Tamim Bin Hamad Al Thani, and the Emirati National Security Advisor (NSA), Tahnoun bin Zayed Al Nahyan, held a "brotherly meeting" near the Red Sea on Friday.
The photo of these Arab Gulf leaders was published on Twitter by the Director of the Saudi Crown Prince's Private Office, Badr Al Asaker, on Friday.
Enjoying the blog? Check these too.
In the photo taken during the "brotherly meeting," the three leaders are seen smiling and wearing casual picnic clothes.
لقاء ودي أخوي بالبحر الأحمر
يجمع سمو سيدي الأمير محمد بن سلمان وأمير دولة قطر الشيخ تميم بن حمد آل ثاني، ومستشار الأمن الوطني في دولة الإمارات الشيخ طحنون بن زايد آل نهيان. pic.twitter.com/2nAUJ8HPM5

— بدر العساكر Bader Al Asaker (@Badermasaker) September 17, 2021
The meeting comes as a sign of hope and relief for the region, which had tense relations a few years ago.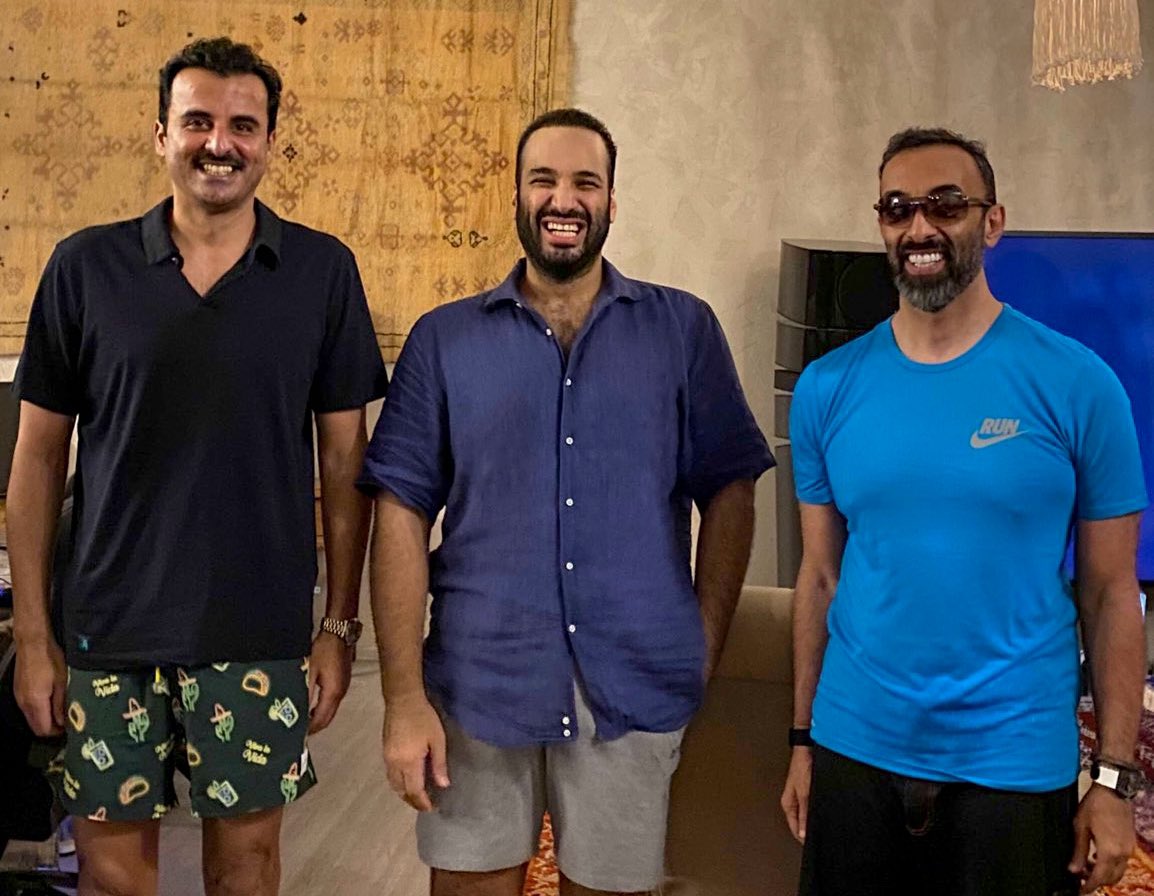 Tense relations
In 2017, the UAE, Saudi Arabia, Bahrain, and Egypt broke relations with Qatar over the latter's alleged support for extremists and its close ties with Iran.
The coordinated boycott of Qatar had created a diplomatic rift in the region and had diminished all hopes of future cooperation.
However, in January this year, the blockading countries ended their boycott of Qatar after the Qatari Emir met the officials from the previously blockading nations at Gulf Cooperation Council (GCC) at Al Ula, Saudi Arabia.
Meanwhile, Saudi Arabia and the UAE are solid allies but had sharp disagreements over oil prices in the last few months, which led to a deterioration in the relations.
However, the recent happy and casual photo of the leaders from the three Arab Gulf states shows that there is still hope for peace between these states in the future.
---
What are your views on this? Share with us in the comments below.