Sukkur's Healthcare Is Better Than Europe: Khursheed Shah
Opposition leader Khursheed Shah, said Sukkur is competing with Europe in healthcare facilities.
"Foreigners, who visit National Institute of Cardiovascular Diseases, Sukkur, say even the US has fewer state-of-the-art hospitals like the one we have in Sukkur," said the PPP leader while addressing a ceremony in his native area.
The absurd and tall claim came after CM Punjab Shehbaz Sharif announced a couple of days ago that the PML-N would turn Karachi into New York if the party was voted into power in the next general elections.
Enjoying the blog? Check these too.
Imran Khan has said Peshawar could be turned into Paris if a Lahore-like budget were spent on its development.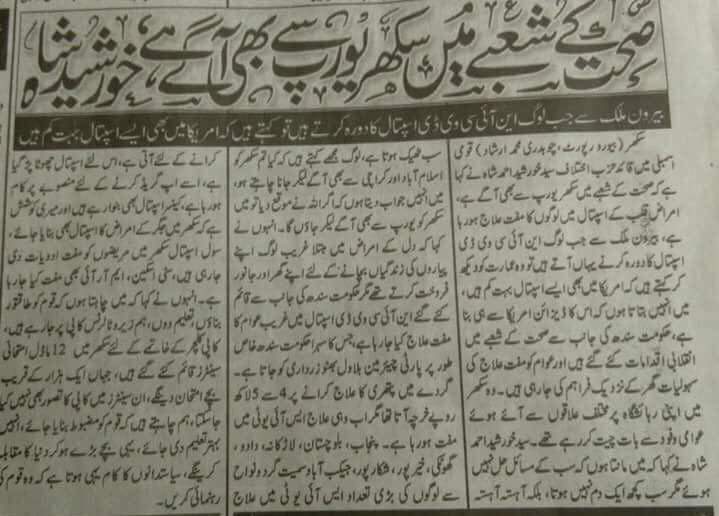 People making fun of social media on Khursheed shah's statement. Here some of the responses:
سکھر میں موجود یورپ سے بھی زیادہ ترقی یافتہ اسپتال

جئیے خورشید شاہ جئیے بھٹو pic.twitter.com/7eIfzjSgq1

— مائیکروسوفٹ (@Slazzenger007) April 23, 2018
خورشید شاہ کی چول سے اندازہ لگایا جا سکتا ہےکہ سندھ میں سخت گرمی پڑنا شروع ہو گئی ہے۔ pic.twitter.com/MnP90AfKLY

— Afifa Virk⁦??⁩ (@AfifaVirk) April 25, 2018
آج کل سائیں قائم علی شاہ اپنی دیسی کچی ?شوباز اور خورشید شاہ کو پلا رہا ہے ??

— خان طارق خان (@MussaTariq) April 24, 2018

https://twitter.com/Sana_meer_144/status/988734495372300289
بابائے واپڈا حضرت میٹر ریڈر خورشید شاہ کا فرمان ہے صحت کے شعبے میں سکھر یورپ سے بھی آگے ہے۔
قوم بھوک اور بیماریوں سے مررہی ہے اور میٹر ریڈر کو لطیفے یاد آرہے ہیں۔
ہنسنا منا ہے بھائیو۔
انہی حرکتوں کی وجہ سے میٹر ریڈر کو واپڈا سے نکالا اب لگتا ہے اسمبلی سے بھی نکلے گا۔ pic.twitter.com/TFcsz7OHrk

— Mubeen Ali Khanzad (@KhanzadMubeen) April 24, 2018
صحت کے شعبے میں سکھر یورپ
سے آگے ہے خورشید شاہ (PPP )
میاں صاحب کلثوم نواز کو سکھر لے آو?
کچھ شرم کرو یار حد ہوگئی ????

— waqas khan P ☕ i ? ?? (@waqasswat1) April 23, 2018
صحت کے شعبے میں سکھر یورپ سے بھی آگے ہے۔۔ خورشیدشاہ

لگتا ہے چور " میٹر ریڈر " نے آج ڈوز کی مقدار ضرورت سے زیادہ کردی ہے۔۔۔ ?@BBhuttoZardari#باپ_نمبری_بیٹی_دس_نمبری

— فرمان یوسفزئی (@farmi79) April 23, 2018
سائیں کا بھنگ والا مٹکا خورشید شاہ کے ہاتھ لگ گیا ہے۔ pic.twitter.com/nLg2oSUDGH

— ٹوٹ بٹوٹ (@SumoRizvi) April 23, 2018
میں نے خورشید شاہ سائیں کو فون کیا اور پوچھا "سائیں سارا پاکستان آپ کے بیانیے پر کنفیوز ہے کچھ وضاحت تو کریں" بولے "میاں ایک پیپر پر یورپ لکھو پھر اس کے آگے سکھر ۔۔۔ سکھر یورپ سے آگے ہوا کے نہیں؟"

میرے منہ سے بے اختیار نکلا "جیئے بھٹو" pic.twitter.com/LcieAJvx99

— MQM Television (@MQMTelevision) April 24, 2018