Thousands of people from Karachi flocked to the beaches on Sunday, flouting COVID-19 SOPs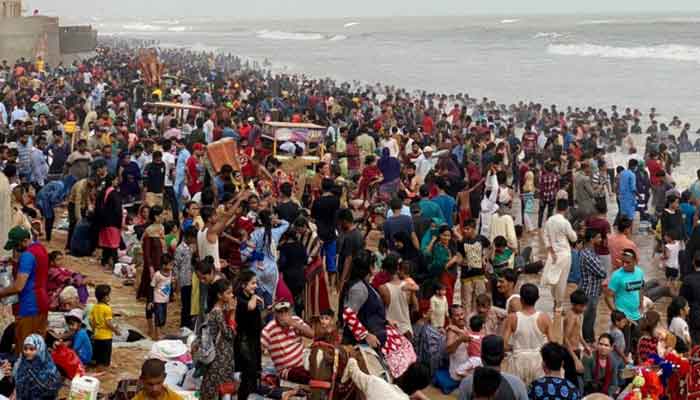 On Sunday, thousands of people from Karachi rushed to the beaches to beat the heat while flouting SOPs ahead of the deadly third wave of the coronavirus pandemic.
It is pertinent to note that the South Asian country is currently struggling with its vaccination drive and has only fully vaccinated around 3.4 million people.
Enjoying the blog? Check these too.
The recent wave of the virus and the low vaccination numbers might suggest that the people would maintain social distancing and avoid crowds. Right?
Wrong! Videos on social media showed citizens thronged to the beaches of Karachi as if COVID-19 had miraculously disappeared overnight.
EXCLUSIVE SCENES | Turtle beach is overcrowded, people head towards beaches to beat the heat.#Karachi #TOKAlert pic.twitter.com/11HWqJLLC6

— The Times of Karachi (@TOKCityOfLights) June 20, 2021
One beach that was highlighted in the videos was Turtle Beach, which is located on a small strip of land separated from the mainland via the mangroves.
Turtle Beach is surrounded by two other famous beaches — Hawke's Bay and Sandspit — that were also reported to be in the same condition as Turtle Beach.
Our lovely beach day 😬😬#karachi #covid19 pic.twitter.com/gpEIYHdhsA

— Hassan🇵🇰 🇵🇸 (@Mohammad1Hasan) June 20, 2021
It is also pertinent to note that immense littering by the citizens on Hawke's Bay and Sandspit beaches has depleted around 30% of the nesting grounds for green turtles in the past decade.
All right, the people might have flocked to the beaches to escape the suffocating humid heat of the metropolis.
Nevertheless, a person might question oneself, especially if one has not received the complete shot(s) of the vaccine, whether temporary relief is worth it if it can, God forbid, spark the fourth coronavirus wave.
What are your views on this? Share with us in the comments below.