Survey: Two-thirds of Muslims in United States experience Islamophobia, women likely to suffer more
Almost half of the young Muslims in the United States hide their Muslim identity to avoid experiencing Islamophobia.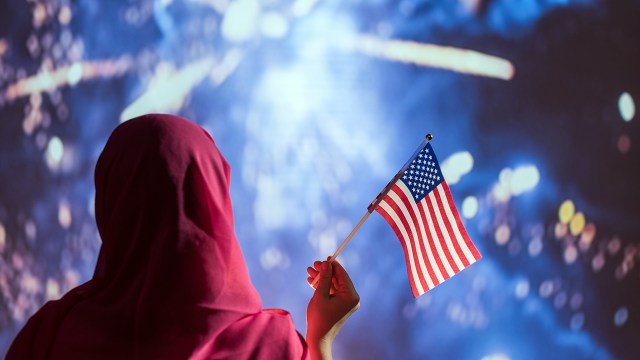 A survey has disclosed that around 67.5% of Muslims living in the United States have experienced Islamophobia at least once in their lives.
These developments were revealed in the report Islamophobia through the Eyes of Muslims published by the Othering & Belonging Institute at the University of California, Berkeley.
Enjoying the blog? Check these too.
Basima Sisemore, a researcher for the Global Justice Program at the Othering & Belonging Institute, remarked that the survey was conducted to focus and uplift the voices of Muslims in the United States.
Sisemore revealed that the survey also reflected how diverse the Muslim population in the United States was.
The survey participants identified as South Asian (35.6%), Arab (25.2%), African-American/Black and Afro-Arab heritage (8.8%), white or of European descent (7%), Central and East Asian (6.9%), multiracial (1.2%), Hispanic or Latino (1.1%), and other (14.2%).
According to details in the survey, Muslim women were more likely to experience Islamophobia than Muslim men.
The Islamophobic experience rate stood at 76.7% for Muslim women as compared to 58.6% for Muslim men.
Almost all of the respondents —a whopping 93.7%— disclosed that Islamophobia affects their emotional and mental well-being.
The survey also revealed that more than 32.9% of the survey's participants had hidden their religious identity to avoid an Islamophobic response.
Similarly, 88.2% of the respondents remarked that they self-censor their actions or speeches due to the fear of how other Americans would react to them.
Younger people, aged 18-29 (44.6%), were more likely to hide their Muslim identities than other groups of people.
In the end, a whopping 97.8% of the respondents believed that Islamophobia is real and it exists.
"That is significant," Sisemore commented. "It exists, and it is an issue."
---
Read More: Muslims In United States More Likely To Attempt Suicide Than People Of Other Religions
---
What are your views on this? Share with us in the comments below.